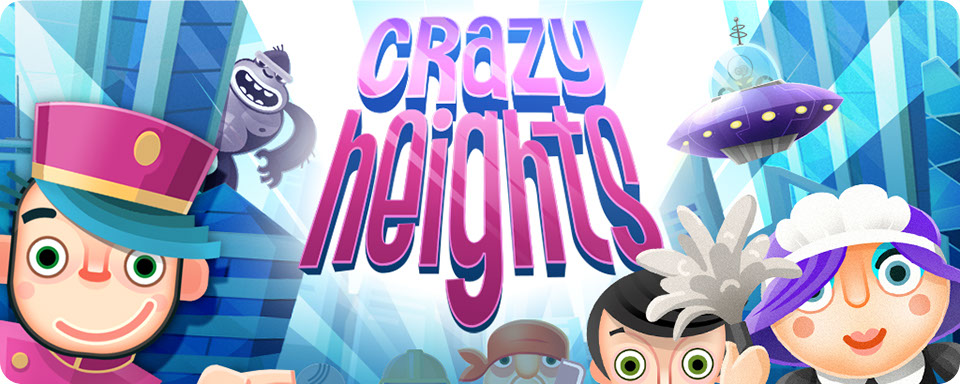 Crazy Heights Christmas Update
December 14, 2016
Save the Frosty Mall from the nefarious Snowman

December 14, 2016 - Szolnok, Hungary - Alder Games, Ltd. is announcing the release of a Christmas themed content update for its free-to-play puzzle game "Crazy Heights".
The original game had three episodes, since then we updated the game twice with additional buildings. The third, Christmas update has a new winter themed episode with an ice breaking twist on the original gameplay. Now, players can log in with Facebook and participate in weekly tournaments to compete with their friends for various prizes. The unique gameplay has also improved and balanced since the initial release.
About Crazy Heights:
Crazy Heights is a match-3 based puzzle game, placed in a funny cartoon metropolis, where you must save the city from evil villains - like the Angry Gorilla or the Jelly Monster - by matching your way up floor by floor in different skyscrapers.
"Match-3 games are a very popular genre on mobile platforms, you can easily name dozens of them - just think about Candy Crush - but Crazy Heights brings a fresh, indie approach to the genre with exciting new gameplay and challenges." said Daniel Albel, the audio and level designer of the game.
The unique match-3 action takes place on a 5x5 board, where you can push entire rows from either side to make matches. Making longer matches grants you extra turns. Collect coins to hire unique employees and use their abilities, making your life easier on your journey to the rooftop. Crazy Heights other big feature is that its design make it easily playable on tablets and small screen phones as well.

Features:
Unique Match-3 gameplay optimized for tablets and phones
A crazy cartoon world full of funny characters
Light-hearted, family-friendly casual appearance and gameplay with additional strategic depth for hardcore puzzle fans
6 episodes with dozens of levels
Built-in online connectivity with customizable profiles and highscore tracking, Facebook Connect
The game is also playable offline
Download Crazy Heights:
About Alder Games:
Alder Games, Ltd. is an independent developer of mobile and desktop casual and puzzle games. Since 2010, we've released several unique games, including the award winning physics puzzle "Atlantis: Pearls of the Deep" (Gamezebo: Best Match-3 Games of 2012).
In our games, our goal is to inject innovative ideas into already established formulas.
Check out our games at www.aldergames.com!
Facebook: facebook.com/aldergames
Twitter: twitter.com/aldergames
PR Contact:
Andras Albel
albel@aldergames.com
Copyright 2016. Alder Games, Ltd.